Originally written in 2001
A Whale of a Time Aboard Careless Whisper
(July 29 to August 1, 2001)
Careless Whisper at the Lewisporte marina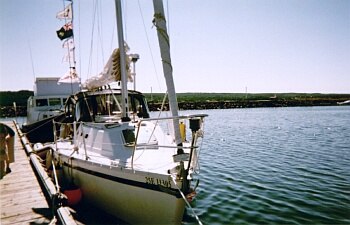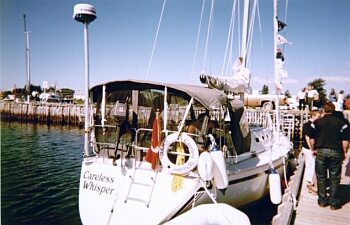 Mark 10:31 to our starboard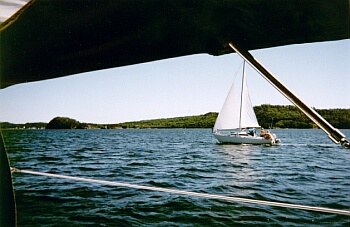 Moreton's Harbour Marina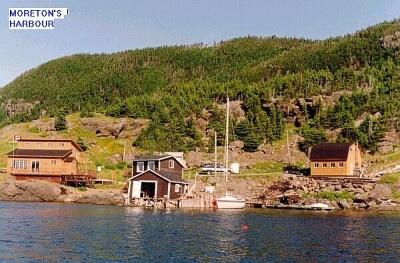 Careless Whisper safe at Musgrave Harbour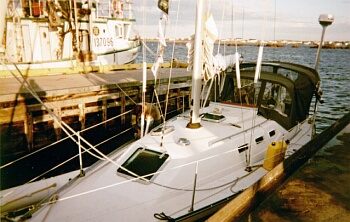 Edward checking over the boat after docking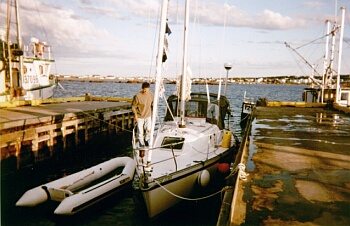 Snugged down at Catalina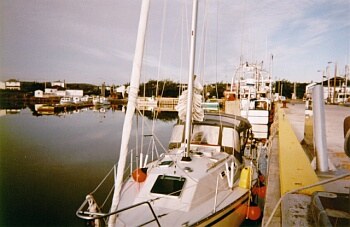 Finally getting in some sailing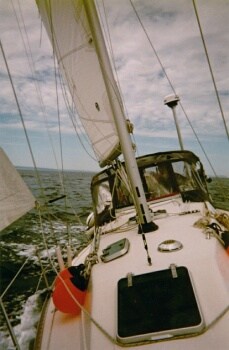 Sailing across Conception Bay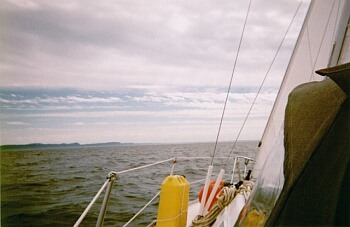 Nearing Bell Island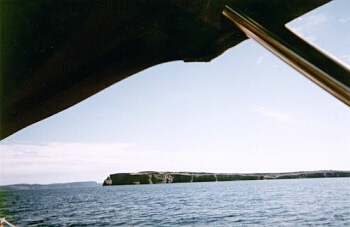 Arrival at the RNYC marina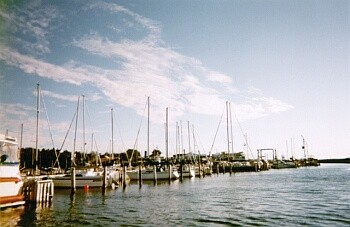 The sailing vessel
Careless Whisper
is a very nice 1985 CS 30. She is was well outfitted with electronic gear, and a comfortable vessel for coastal cruising. Her owners, Julie and Edward, while relatively new to sailing, are quite capable. They had just returned to Lewisporte following their participation in a small week-long local flotilla, and wanted an extra hand to help get the boat back to their home port at the Royal Newfoundland Yacht Club marina. My sailing and navigation skills would only be a back-up to theirs in case the weather turned bad, or some emergency arose.
Sunday, July 29:
By the time we loaded up, and said our good-byes, it was 1100 when we cast off the dock lines and got underway. Winds were forecasted to be an ideal Westerly 15 to 20 knots, but never actually got much over 10, so we had to motor off and on. An Abbott 22,
Mark 10:31
, containing our friends Carolyn, Peter and Clara accompanied us part-way across Embree, but soon slipped behind, so we bid them farewell over the radio. Also on the VHF was
Just Carrying On
who, along with
Meagan Rae
, was returning to Lewisporte from our destination, Moreton's Harbour. We arrived at the private marina there at about 1700, having only enjoyed a couple short sails. We did, however, see some whales off Western Head as we passed inside Gull Island; foreshadowing the rest of the trip.
Monday, July 30:
I had my alarm set for 0600, but woke up at 0530. While waiting for the others to rise I went outside to inspect the day. It was very calm, but a light breeze was rustling the flags by the time we departed at 0730. About half way to Twillingate a whale surface a couple meters in front of the boat. This, however, was just the first one of the day, and the many we would see while motorsailing through Notre Dame Bay. We took a different route than I had gone on previous voyages, going between Change Islands and Fogo. I was looking forward to this section, but had a nap in my aft berth after lunch and missed it. I am not normally a morning person, and rarely do I nap, but early mornings and long days on the water can be tiring. The plan was to put in at Seldom for the night, but with lots of daylight left, we decided to see if we could make Lumsden. Plagued still by the light and fickle winds, we did not cover as much distance as we hoped, and decided to pull into Musgrave Harbour. It was a much nicer arrival than the last time I sailed into the community (
aboard Windthrush
). The same dock space was available, and that evening we tuned up the rigging which had slackened slightly with all the sailing Julie and Edward had done that summer.
Tuesday, July 31:
Once again I awoke at 0530, and got dressed before my hosts in the forward berth. Departure took place around 0700. We were greeted once again by familiar light winds, although they were variable from the North and a little cool for the time of year. While motorsailing, we attempted to keep our SOG at 6 knots and managed to average a very reasonable 5.7. Our port of call for the evening was Bonavista, but once more ahead of schedule, and experiencing reasonable weather, we carried on to Catalina, passing close aboard the only cardinal buoy I have seen in Newfoundland waters. (We saw it flashing at night from Windthrush, but couldn't find it in the list of lights at that time.) The day was again filled with whales and even some close encounters off Cape Freels. One was continuously slapping its tail on the water all the while we were approaching the entrance to Catalina. This was new, yet unexplained behaviour to me. I had been wearing my sunglasses all day and forgot to take them off, so I was experiencing more darkness than there actually was. I am using the adjustment my eyes had to make as an excuse for not finding the range, since I am normally known for my keen eyesight. After making the twists and turns to make our way into the harbour, we found that the kind people of Catalina had a new wharf constructed just for us, or so I would like to think. You could still smell the paint on the wood, but the power, unfortunately, was not yet looked up.
Wednesday, August 1:
Departure took place at 0700. This day the light winds were mixed with some fog, and that gave Julie an opportunity to more seriously practice her navigation since we may have to go long distances without being able to see any landmarks, or much of anything for that matter. She planned us a safe route to the marina and carefully entered it into the GPS. Along with the radar, we were well prepared to handle the reduced visibility with safety and confidence. As it turned out, we didn't really need the electronic gadgets. The fog cleared well before we had to make our way Between Grate's Point and Bacalau Island. While we were making our way through the channel, we noticed two other sailboats. They were hugging the cliffs and seemed to be gaining on us. If we abandoned our safe track and kept closer to shore ourselves, we could shave a little time off our voyage, so that is what we did. This worked out well, except for the obsticle course of many net buoys I had to weave through on the East end of the channel. Getting just an hour or so away from the marina, the wind decided to picked up and help speed us on our way. The sun was also out by this point too, and the last part of the trip became the most enjoyable. Just outside the channel to the marina we dropped sail and motored in while several other sailboats were heading out for their normal Wednesday evening races.
The voyage was marked by many whale sightings (Which are hard to get good picture of with a disposable camera and no zoom!) and light winds, but the most memorable part was the generosity and kindness of the boat owners. They took very good care of me, and saw that I was not out of pocket myself as long as I was with them. I wish Julie and Edward all the best, and as with most people I have sailed with, hope I can go boating with them again sometime.
- Peter Haliburton © 2002
All displayed photos, except Moreton's Hr. Marina, © Peter Haliburton 2001
Trip Log Summary
TIME
LOCATION
DISTANCE
(LEG/TRIP)
SPEED
(LEG/TRIP)
COMMENTS
Sunday, July 29, 2001
1100
Lewisporte
-
-
Departed the LYC marina for Moreton's Harbour
1700
Moreton's Harbour
27.2/27.2
4.7/4.7
Arrived at the marina
Monday, July 30, 2001
0730
Moreton's Harbour
-
-
Departed
1830
Musgrave Harbour
54.9/82.1
4.8/4.7
Arrived
Tuesday, July 31, 2001
0700
Musgrave Harbour
-
-
Departed
2115
Catalina
80.9/163.0
5.7/5.1
Arrived
Wednesday, August 1, 2001
0700
Catalina
-
-
Departed
1930
RNYC Marina
62/225
5.0/5.1
Secure at destination