Originally written in 2000
Crewing to St. John's aboard Windthrush
(My Participation in the NF Flotilla 2000)
On Tuesday evening, August 29, 2000 my family and I returned home to
Lewisporte
from a few days visiting my mother at the hospital in St. John's. When I checked my answering machine, there was a message from my friend and sailing mentor,
Peter Watkins
, concerning someone in need of experienced sailing crew. This person turned out to be Peter Briffa.
I had been in e-mail contact with his wife, Linda, off and on since March making arrangements to crew with them. They were going to be a part of the
Newfoundland Flotilla 2000
, and I had hoped to join the boat once they landed at Corner Brook. We hadn't made any firm plans by the time they departed, and I was at
Exploits Islands
when they called for me to meet them there. I thought my opportunity to be a part of the Flotilla had been missed.
Up to that point I hadn't done any sailing in the 2000 season. Not having a sailboat of my own, still being a
power boat
owner, the chance to sail had not yet presented itself. I was afraid that I would actually miss a season since first discovering the wonders and joys of sailing in June of 1997. With only a few weeks left to go before all the boats started coming out of the water, I got lucky.
Windthrush docked at Lewisporte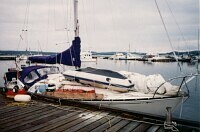 The Briffa's were fairly new to sailing when they left with the flotilla. They had been in possession of their 1974
C&C 30
,
Windthrush
(or
Windtrush
as she is called by some in the outports, and
Windtrash
if she failed to complete the journey), for less then a year, but Peter had owned several power boats of various sizes previously. Even so, the trip to Newfoundland was a fairly ambitious trek for a novice sailing couple and their two young girls.
They had done a good job of keeping up with the rest of the flotilla on the way down, but decided to take a more leisurely pace once arriving at the island. That is how they managed to show up at Lewisporte a couple weeks behind the rest of the pack. They had been expecting to pick up new crew in Lewisporte, but that didn't work out. Linda and the girls needed to get to Nova Scotia to set up house and get ready for the opening of school. Peter Watkins brought them up to the bus station the day before I got back, so I didn't get to meet them. This left Peter alone on the boat and facing a couple weeks more sailing before reaching his new home in Nova Scotia.
I popped down to the marina on Tuesday afternoon, along with my friend
Captain James Gurney
, to meet Peter in person for the first time.
Windthrush
was easy to find with her unique purple plumage. We chatted about his predicament, and I needed to determine quickly if I was going to be able to arrange to make the trip. He was expecting someone to fly in on the following Thursday to crew for a week or two, but that was 9 days away with the boat eating money at a
marina
, and not making any progress towards home. I went back to see him a couple more times, and decided on Wednesday afternoon that this was something I had to do regardless of circumstance or consequence. We began preparations to depart as soon as we could.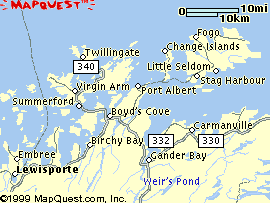 This didn't leave me much time to get ready. My clothes were still in the laundry from our visit to St. John's. I had to get to the bank and the stores, organize, and pack. It was a rush job, but we managed to pull away from the wharf at the Lewisporte marina around noon on Thursday. I was finally sailing.
Peter Watkins and some guests were already out on the water aboard his Bayfield 32C,
Paws II
, so once we were clear of the harbour we got hold of them on the radio. Peter was pleased to learn that I had been able to make the trip. He invited us to join them for the night at
Luke's Arm
, a small community between Summerford and Bridgeport with a good harbour where he had relations and access to a good mooring. We wanted to make more distance than that on the first day, but after watching the fog move closer as we neared Cottle's Island, we decided it would be a good place for a boat without radar to spend the night.
On the mooring at Lukes Arm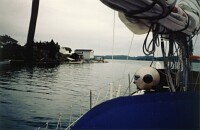 You wouldn't think that Peter was such a common name, but on the two boats there were four people answering to it, and two more nearby on shore. Two of the boating Peter's were Newfoundlanders, while the other two were visiting from Ontario. All got along well, and it was a fun evening swinging safely on the mooring, sipping wine, eating cookies and muffins, and telling stories.
We got up about 0700 the next day, and after a quick breakfast, set out to make up for lost time. The forecast, however, was calling for winds in the 40+ knots range to head our way, so we were watching the weather carefully, and always mindful of the closest safe port. The first one was
Moreton's Harbour
, and we wanted to visit with
June and Carl Knight
who run the marina there, but since the sailing was still good when we got to it, we carried on. By the time we got to
Twillingate
though, the picture was changing. It had become colder and rain was starting to fall. We decided it was time to look for a safe place to tie up and wait out the gale. We could hear
Paws II
calling on the VHF, but they couldn't copy us. I used the cell phone to let them know we were ok and what our plans were.
Twillingate's fishplant wharf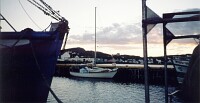 We tied up at the fish plant around noon. Among the many large, expensive fishing vessels there the 30' sailboat looked like a small tender. After getting some lunch we donned our rain gear and went for a walk around the community. My guess as to where town hall would be located was wrong, but at least it allowed us to extend the stretching of our legs. Eventually, we found it, and the skipper completed his ritual of collecting a town pin from each of the ports he stopped.
The rain cleared up in the afternoon, but we stayed put to wait out the approaching storm. It struck while we were sleeping. Even though we were safely inside the 'U' of a sturdy wharf, and behind a breakwall, the winds that night shook the boat violently at times, rattling halyards and anything else that could make a noise. The undertow moved us forcefully from the extremes allowed by the spring lines, making at times for unexpected and abrupt stops that were almost enough to toss me out of my berth. I was glad we had 6 lines ashore when those jolts were strong enough to wake us at about 0200. We both got up and went into the cockpit to see what the instruments had to say about the wind speed and direction. The predictions were accurate, and then some in the bigger gusts. We saw speeds of force 9 on the Beaufort Scale. It was a restless night for both of us. I heard later that at
Exploits Islands
Paws II
, and a few other boats, also had a rough night moored in that normally placid harbour.
Harbour still rough after the storm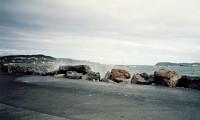 The next morning, while the wind had dropped out to about 20 knots, still from the northwest, the waters had been whipped up into a large sea. The harbour scene alone was almost enough to prevent any sane individual from venturing onto the water. I guess that would explain the mental condition of the windsurfer we saw dashing back and forth while waves were still breaking over the sea wall. We waited until noon for things to settle a bit. Once certain that both we, and the boat, were ready for the conditions, the lines were cast off.
There was not much room to maneuver, but the skipper decided it would be best to raise the main and jib in the somewhat protected waters behind the wall. The mainsail was no problem, but the jib decided to tangle a sheet and wrap itself around the forestay. After some quick turns, and close calls, we finally had the sails properly set and thus headed out to face what the gales had done to the cold North Atlantic.
We sailed out of Twillingate harbour, and eventually found the buoys marking the east exit that the waves and swells were trying to hide. It was not a pleasant sail, but neither was it terribly uncomfortable. The boat carried itself well with a genoa and no reefs in the main, consistently making over 6 knots SOG. This was the case even when we cleared all the land protection and found ourselves out in 4 meter (12-15 foot) waves. While they were bigger than in the harbour, they were longer and in no way a threat to the boat. They were, unfortunately, a threat to my stomach.
I have been prone to motion sickness for as long as I can remember. Growing up I always had to sit in the front seat of the car on highway tips. This time, however, I blamed the onset partially on my struggle with the sails in the harbour bringing me near exhaustion and dehydration. The good thing, is that I remain somewhat functional. We kept a bucket near and I tried to distract myself with different facets of boat operation. I was not wholly successful, but with only two of us aboard, I could not afford to get really sick. I survived, and after a couple hours of nausea, I adjusted to the conditions. This was, after all, my first sailboat trip in almost a year, and nearly 2.5 years since being out in similar seas (delivery of
Paws II
in June of 1998).
While waiting in Twillingate, I had gone over the charts, setup some waypoints, and learned how to use the ship's GPS. When I went to
Bonavista in 1997
aboard the Bayfield 36,
Windborne III
, we took the outside route, north of Fogo, away from all the rocks and other obstacles that boats don't like. This time, with better charts and information, we were going to try the Hamilton Sound route to save some time, and get some protection from those great big seas. Jim had been through there many times during his patrols with the Coast Guard, and had given us some pointers at that first meeting aboard
Windthrush
. It was also a better place to be with only two aboard in case there was any trouble.
The ferry departing Farewell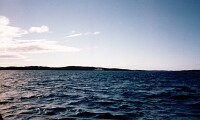 We knew we could safely pass between Berry and Baccalao Islands. Once through, there was a range we would see behind us to help take the boat between some rocks, but we were well through, and doubting our source before it finally came into view. There are a lot of rocks in this region, and we could see them breaking all around us. Constant checks of the GPS (Peter was pleased with my waypoints and route), charts and landmarks made sure we made it safely through. We could see the Fogo/Change Islands ferry making her runs across our track as we progressed south to Steering Rock. We must have been a spectacle for several different groups of passengers. Since the cod fishery was open, we hove-to a couple times to see if we could catch a meal. Our luck only provided a single small tomcod which we carefully cooked underway on the small propane burner in the cockpit. Despite the bones, and the tiny portions, it was tasty.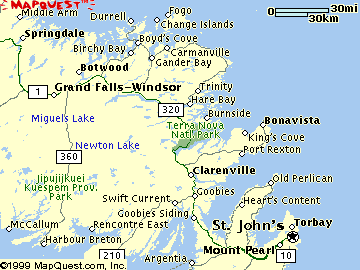 By dark, the closest community was Musgrave Harbour. The sailing directions indicated we could find enough water for the boat's draft at the fish plant wharf, so this is where we decided to put in. Following the lights of the navigation buoys we made for the harbour. Seas were still around 2-3m, so we could see waves breaking too close for comfort. Once at the edge of the breakwall a tight starboard turn was required, but in the darkness doubt can creep in. We took our time, rechecked our path through the flashing reds and greens, and pressed on with fingers crossed. Arriving at the wharf we found no good place to tie up among all the fishing boats, so after checking with a local, we took the bay for the marine travel lift. With lines and fenders on both sides, we had a much more restful night than the one Friday at Twillingate.
The next morning we were underway around 0930, with some advice from local fisherman on how to get through the rest of the sound, and perhaps where a cod could be found. Not only did we miss the rocks, but we also missed finding any cod. So much for another free meal (Peter was getting good at heaving-to though). Once past the protection of Fogo seas pickup up again, and once in a while some really big ones would pass under us. Eventually, we made a long tack offshore, almost half way to the Funk Islands, so that the next tack would take us clear of the rocks off Cape Freels. It was a good plan, but apparently the wind didn't like it. We were forced to motorsail in to our next planned port-of-call, Bonavista. While out there, however, something struck the boat. It was a solid thump, but not like hitting a log or other hard object. Our best guess is that it was a sleeping, or perhaps overly amorous whale. No damage was done, and if it was a whale, it was the second closest we came to seeing one along a stretch of water that is usually full of them. Our only sure sighting was one blowing in the distance near Comfort Cove, a couple hours out of Lewisporte. Unfortunately, we didn't see the actual whale.
I had two possible rides available for Sunday to take me back home from St. John's, and an idea of how I could get out on Monday. Peter Watkins was going in for overnight, but didn't have room for me in his car. He would, however, if he took my mother's car. It was now Sunday evening and we were less than halfway to the city. My wife wanted me home by suppertime Monday, so it was time to make some decisions. The one we made was to keep going through the night, and carry on for as long as we could. So, in the darkness we bypassed Bonavista and Catalina, and made our way towards Baccalieu Island.
I, being more of a night owl than a morning person, took the helm while the skipper took to his bunk. In the dark, with the clouds and stars overhead, the sound of the engine drowned out my singing. This was the time I enjoyed best during the trip. That is until around 0200 when a fishing boat, coming from the west side of the Bonavista Peninsula, decided to see if we knew the rules of the road or not. We were motorsailing, so they had the right of way, but we had kept the steaming light off since it severely hampered our night vision. As far as they should have been concerned, we were the stand on vessel. It took a couple of quick turns on our part to keep us from testing the strength of our fiberglass against theirs.
Sunrise on the last day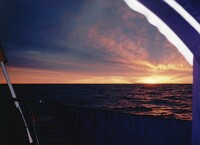 While I tried to sleep, from 0300 to 0600, the skipper passed his 2000 nautical mile mark for the voyage since leaving Toronto. He even got some good sailing in to mark the occasion. I was awakened in time to witness the rising of the sun and the start to a beautiful day. Two hours into my shift, however, the wind had died and we were going backwards with the ebb current. It was time to haul down the jib and start the old Atomic gas engine. This woke up Peter, but he was able to get back to sleep again once underway, even though it was a bit noisier.
While we were making the transition from sail to motor I noticed a lot of birds gathered
Some hungry seabirds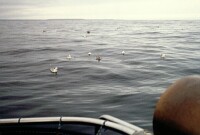 around our stern. It was not until later I realized they were probably waiting for some breakfast like they get from the fishing boats. We tried for cod several times along the way, but besides that one small tom cod, that was barely a mouthful for two hungry sailors, it was not to be. On Monday morning we gave it one last try next to a trawler hauling them up in a net. Still nothing. Since we didn't normally cook while underway due to the setup, meals consisted mostly of cold cereal for breakfast and sandwiches for other meals. This voyage would not be remembered for the quality of the cuisine. Most of the rest of the trip was uneventful. It was starting to get dark when we got to Cape St. Francis and passed by Pouch (pronounced pooch) Cove. By Torbay the lights of the towns became denser and brighter - we were nearing the city. Eventually, we could make out Cabot Tower lit up by flood lights on top of Signal Hill. We eased our way towards land until the two big green lights of the harbour range came into view. Entering St. John's at about 2300 was almost surreal. The cliffs seemed closer then they were, and the bottom of the harbour appeared to be downhill from us. Once inside the narrows a fishing boat passed by on her way out.
As we floated in the center of the harbour taking down the sails, we heard
Windthrush
being called on the VHF. Having missed all three rides out, I had needed to make other arrangements for my trip home. Since gas in my car was about the same cost as the bus, my wife came in to pick me up. This gave her an opportunity for another quick visit with my mother, and also some control over when I got back home. Keeping her happy meant I might be allowed to embark on such an adventure again.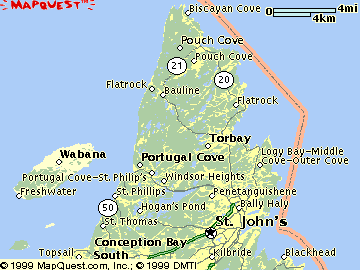 It had been the middle of that afternoon before the arrangements were made, and after a few hours of driving she was at the waterfront waiting for us, while we had traveled for five days and not yet tied up. She had contacted the harbour master to see if he had heard from us, so it was him calling to find out where we were. With some help from him we found a spot to dock right in the middle of the waterfront, beside a tour boat. A good place for Peter to be able to get around, see some sights, and take care of the few things he had to do.
It was just as I was about to take my last look around the boat to see if I had everything when the only real mishap of the voyage took place. There is a good step down to a broad beam which runs the length of the waterfront against which the boats docked. There is a narrow gap between that and the wall. In the dark it made a perfect hole for me to fall into, hurting both knees and my right hand. (There is no outward sign of damage, but after a couple weeks my left knee still hurts.) We all said our goodbyes, and drove through the night to get home at about 0530. I had been awake for most of the past 48 hours.
On the Thursday after I got home, I had two phone messages from Peter. One said his expected crew couldn't make it and he'd like me to come back to crew for the rest of the trip. A little while later there was another message saying that he had found some crew at St. John's, but might still like for me to join them, especially for the straight crossing. He managed to do it without me, however, and
Windthrush
and skipper made it safely to their new home in Nova Scotia about two weeks later. I am now more experienced and ready to embark on my next crewing adventure. Looks like this one is to the Bahamas!
- Peter Haliburton 2000/10
all displayed photos © Peter Haliburton 2000
Trip Log Summary
TIME
LOCATION
DISTANCE
(LEG/TRIP)
SPEED
(LEG/TRIP)
COMMENTS
Thursday, August 31, 2000
1200
Lewisporte
-
-
Departed for St. John's
1830
Luke's Arm
27/27
4.2/4.2
On mooring with Paws II
Friday, September 1, 2000
0800
Luke's Arm
-
-
Departed
1230
Twillingate
19/46
4.2/4.2
Docked at fish plant
Saturday, September 2, 2000
1130
Twillingate
-
-
Departed
2300
Musgrave Harbour
45/91
3.9/4.0
Tied up in travel lift bay
Sunday, September 3, 2000
0930
Musgrave Harbour
-
-
Departed
2359
Off Cape Bonavista
-
-
Motorsailing through the night
Monday, September 4, 2000
0000
Off Cape Bonavista
-
-
Motorsailing through the night
2300
St. John's
159/250
4.2/4.2
Arrived at destination (60 hours)